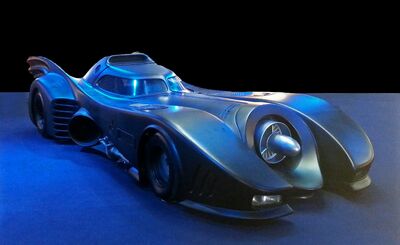 The Batmobile is a car, which is the main transportation for Batman and Robin. It made its first appearance in Detective Comics #27 (May, 1939), where it was depicted as an ordinary-looking, red car. Housed in the Batcave, which the Batmobile accesses through a hidden entrance, the heavily armored, weaponized vehicle is used by Batman in his crime-fighting activities.
The look of the Batmobile has varied over time depending of series, but since its earliest appearances, the Batmobile has had a prominent bat motif, typically including distinctive wing-shaped tailfins. Armored in the early stages of Batman's career, it has been customized over time into a sleek, armored supercar-hybrid, and is the most technologically advanced crime-fighting asset within Batman's arsenal. Depictions of the vehicle have evolved along with the character, with each incarnation reflecting evolving car technologies. It has been portrayed as having many uses, such as vehicular hot pursuit, prisoner transportation, anti-tank warfare, riot control, and as a mobile crime lab. In some depictions, the Batmobile is able to be driven unmanned or remotely operated. It has appeared in every Batman iteration—from comic books and television to films and video games—and has since become part of pop culture.
Ad blocker interference detected!
Wikia is a free-to-use site that makes money from advertising. We have a modified experience for viewers using ad blockers

Wikia is not accessible if you've made further modifications. Remove the custom ad blocker rule(s) and the page will load as expected.