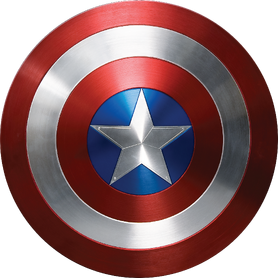 Captain America's shield
is a fictional item appearing in American comic books published by
Marvel Comics
. It is the primary defensive and offensive piece of equipment used by the Marvel Comics superhero
Captain America
; he is seldom seen without it. Over the years, Captain America has had the use of several different shields of varying composition and design. His original heater shield first appeared in
Captain America Comics
#1 (March 1941), published by Marvel's 1940s predecessor, Timely Comics. The circular shield best associated with the character debuted in the next issue,
Captain America Comics
#2. Captain America was created by the team of writer-artist Joe Simon and artist Jack Kirby.
Abilities
Edit
Vibranium Steel alloy
Edit
Captain America's shield is virtually indestructible under normal conditions; while cosmic and magical or godly opponents have broken the shield, the shield proves strong enough to absorb Hulk's strength, and repel an attack from Thor's mystical hammer Mjölnir without any visible damage. It is able to absorb all kinetic energy and transfers very little energy from each impact, meaning Captain America does not feel recoil or transferred impact forces from blocking attacks. These physical properties also means the shield can bounce off of most smooth surfaces, ricocheting multiple times with minimal loss in aerodynamic stability or velocity. The shield can also absorb the kinetic impact of a fall, allowing Captain America to land safely even when jumping off of several stories.
Ricochet ballistics
Edit
A common misconception is that the shield can "magically" return to Captain America. The "superhuman serum" that enhanced Captain America's physical attributes also improved his mental faculties—such as cognition, perception, balance, aim, and reflexes—to near genius-level. This allows him to instantly calculate ballistic-physics and predict the probable trajectory of objects in motion. This makes him a perfect shot. He can dodge or deflect bullets with his shield without collateral ricochet to civilians, to calculate where or how the shield will bounce and when it will return to his location, or trip a running person to cause them to fall into a specific position. After his memories are altered to make him believe that he is a Hydra sleeper agent, Rogers uses his precise knowledge of the shield to put Sam Wilson, its current wielder, in a position where he will fail to save a senator from Flag-Smasher by arranging for Wilson to be forced to throw the shield in a manner that Rogers knows from his own experience will miss its target by mere millimetres, as part of his agenda to undermine Sam's status as Captain America.
Ad blocker interference detected!
Wikia is a free-to-use site that makes money from advertising. We have a modified experience for viewers using ad blockers

Wikia is not accessible if you've made further modifications. Remove the custom ad blocker rule(s) and the page will load as expected.