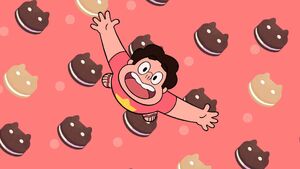 "Cookie Cat" is a song from Steven Universe, in the episode Steven Universe episode: "Gem Glow". Is sung by Zach Callison.
Steven:
Oohhhhh!
He's a frozen treat with an all new taste!
'cause he came to this planet from outer space!
A refugee of an interstellar war!
But now he's at your local grocery store!
Cookie Cat!
He's a pet for your tummy!
Cookie Cat!
He's super duper yummy!
Cookie Cat!
He left his family behind!
Cookie Caaaaat!
Now available at Gurgens off Route 109!
Ad blocker interference detected!
Wikia is a free-to-use site that makes money from advertising. We have a modified experience for viewers using ad blockers

Wikia is not accessible if you've made further modifications. Remove the custom ad blocker rule(s) and the page will load as expected.