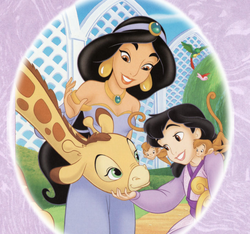 In any story, there comes a time when the hero or heroine shows his or her kindness by cuddling a critter (usually a pet or companion). He or she can also allow critters to climb onto and cuddle them. These can be a visual representation of friendship and/or compassion.
Usually, the critter can leap onto someone (usually a child) or clamber onto him or her, commonly playing with the person's hair or clothes and tugging their fingers, ears, and limbs. The gentle creature can also give someone a hug. This usually happens when the critter...
Wants to play with someone.
Comforts someone.
Displays kindness.
Tries to wake someone up.
Grooms someone.
Flint Lockwood allows marshmallow creatures to cuddle him when he sets foot in a cave where the FLDSMDFR is kept.
Baby Hercules cuddles Pegasus when Zeus, his father, gives the little horse to him as a gift.
Pocahontas and Jasmine are shown cuddling Meeko and Rajah when Ella (Cinderella) asks Vanellope von Schweetz if animals can talk to her in the Wreck-It Ralph sequel Ralph Breaks the Internet.
Snow White