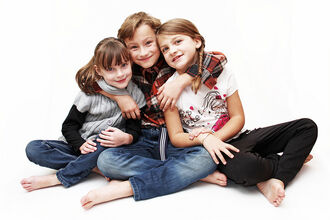 Good Siblings
are types of heroes, who are related to the hero or heroine. Usually, older siblings care for younger siblings; helps him/her, supports, teaches all good things, gives a good example, protects him/her from aggressors. In other situations, the older or younger siblings wants to help other sibling, who went the bad way and thus has a chance to reform.
Tadashi and Hiro Hamada
Lincoln Loud and Sisters
Andrew and Lindy Waltrip, Greg, Sophie and Vincent Leary
Kenai, Sitka & Denahi
Luke Skywalker and Leia Organa
Elsa and Anna
Shining Armor
Candace Flynn, Phineas Flynn & Ferb Fletcher
Joey and Serenity Wheeler
Dipper & Mabel Pines
Bart, Maggie and Lisa Simpson
Phil & Lil
Chuckie and Kimi
Bill, Charlie, Percy, Fred and George, Ron and Ginny
Tommy & Dil
Matt & T.K.
Serena and Sammy
Clemont and Bonnie
May and Max
Yakko, Wakko and Dot
Tai and Kari
Jerrica and Kimber Benton
NOTE: The limit is for 20 pictures only
Ad blocker interference detected!
Wikia is a free-to-use site that makes money from advertising. We have a modified experience for viewers using ad blockers

Wikia is not accessible if you've made further modifications. Remove the custom ad blocker rule(s) and the page will load as expected.