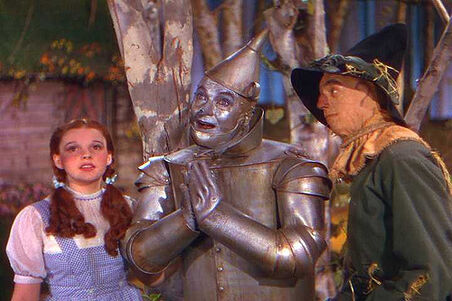 If I Only Had A Heart is a song sung by the Tin Man to Dorothy and the Scarecrow as he tells them what he would do if he had a heart. There is also an unseen cameo by Snow White.
(Tin Man)
When a man's an empty kettle
He should be on his mettle
And yet I'm torn apart
Just because I'm presumin'
That I could be a human
If I only had a heart
I'd be tender, I'd be gentle
And awful sentimental
Regarding love and art
I'd be friends with the sparrows
And the boy that shoots the arrows
If I only had a heart
Picture me a balcony
Above a voice sings low
(Snow White)
Wherefore art thou, Romeo?

(Tin Man)
I hear a beat, how sweet!
Just to register emotion, jealousy, devotion
And really feel the part
I could stay young and chipper
And I'd lock it with a zipper
If I only had a heart
Ad blocker interference detected!
Wikia is a free-to-use site that makes money from advertising. We have a modified experience for viewers using ad blockers

Wikia is not accessible if you've made further modifications. Remove the custom ad blocker rule(s) and the page will load as expected.