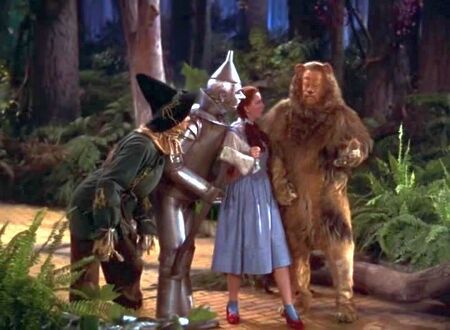 If I Only Had The Nerve is a song from The Wizard of Oz sung by the Cowardly Lion to Dorothy, the Scarecrow and Tin Man as he tells them what he would do if he had courage.
(Cowardly Lion)
Yeah, it's sad, believe me Missy
When you're born to be a sissy
Without the vim and verve
But I could show my prowess
Be a lion, not a mowess
If I only had the nerve
I'm afraid there's no denyin'
I'm just a dandylion
A fate I don't deserve
I'd be brave as a blizzard
(Tin Man)
I'd be gentle as a lizard
(Scarecrow)
I'd be clever as a gizzard
(Dorothy)
If the Wizard is a wizard who will serve
(Scarecrow)
Then I'm sure to get a brain
(Tin Man)
A heart
(Dorothy)
A home
(Cowardly Lion)
The nerve!
Ad blocker interference detected!
Wikia is a free-to-use site that makes money from advertising. We have a modified experience for viewers using ad blockers

Wikia is not accessible if you've made further modifications. Remove the custom ad blocker rule(s) and the page will load as expected.