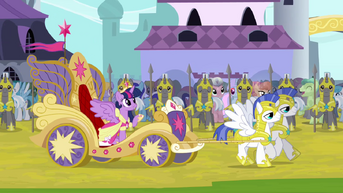 Life in Equestria is the seventh and final song featured in the season three finale, Magical Mystery Cure. It is a reprise of the episode's first song, Morning in Ponyville, and, like The Success Song and Love Is In Bloom, it is sung right at the end of the episode, as a finale song.
[Twilight Sparkle]

Life in Equestria shimmers
Life in Equestria shines
And I know for absolute certain
[Main cast and crowd]

That everything (everything)
Yes, everything
Yes, everything is certainly fine
It's fine
Twilight Sparkle: Yes! Everything's going to be just fine!
Ad blocker interference detected!
Wikia is a free-to-use site that makes money from advertising. We have a modified experience for viewers using ad blockers

Wikia is not accessible if you've made further modifications. Remove the custom ad blocker rule(s) and the page will load as expected.