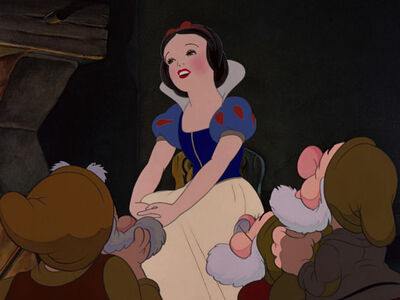 "Some Day My Prince Will Come" is a song featured in Snow White and the Seven Dwarfs.
Background
Edit
In the film, Snow White sings it to the Dwarfs after recalling her first meeting with the Prince, and later when she and some birds are preparing gooseberry pies for the Dwarfs. A reprise of it sung at the very end of the film, as Snow White and the Prince ride into the sunset.
Some day my prince will come  
Some day we'll meet again  
And away to his castle we'll go  
To be happy forever I know
Some day when spring is here  
We'll find a love anew  
And the birds will sing,  
And wedding bells will ring  
Someday when my dreams come true
Ad blocker interference detected!
Wikia is a free-to-use site that makes money from advertising. We have a modified experience for viewers using ad blockers

Wikia is not accessible if you've made further modifications. Remove the custom ad blocker rule(s) and the page will load as expected.