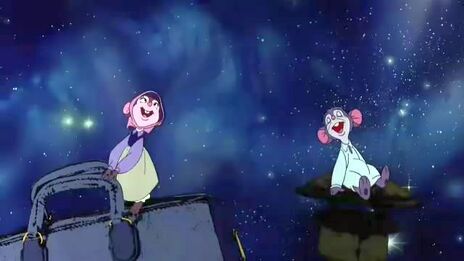 Somewhere Out There is a song that Fievel and Tanya both sing one night while Fievel is lost in New York City, neither knowing that the other is also singing the song. Fievel sings because he knows his family is out there and he wants to find them, and Tanya sings because she refuses to believe that Fievel is dead. The song is performed by Phillip Glasser and Betsy Cathcart, who replaces Tanya's voice actress Amy Green for the song.
A pop version of the song was performed by James Ingram and Linda Ronstadt.
A reprise was performed by Tanya again, this time voiced by Cathy Cavadini in the sequel.
Fievel:
Somewhere out there
Beneath the pale moonlight,
Someone's thinking of me
And loving me tonight.
Tanya:
Somewhere out there
Someone's saying a prayer
That we'll find one another
In that big somewhere out there.
And even though I know how very
Far apart we are
It helps to think we might be wishing
On the same bright star.
Fievel:
And when the night wind starts to sing
A lonesome lullaby,
It helps to think we're sleeping 
Underneath the same big sky.
Both:
Somewhere out there
If love can see us through,
Then we'll be together
Somewhere out there,
Out where dreams
Come true.
Ad blocker interference detected!
Wikia is a free-to-use site that makes money from advertising. We have a modified experience for viewers using ad blockers

Wikia is not accessible if you've made further modifications. Remove the custom ad blocker rule(s) and the page will load as expected.