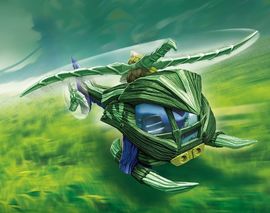 The Stealth Stinger is Super Shot Stealth Elf's signature vehicle in Skylanders: SuperChargers. The Stealth Stinger is the ultimate forest ninja weapon! During covert Skylander operations, Stealth Elf uses its camouflage abilities and high velocity thorn rockets to get the drop on evil before they see it coming!
Ad blocker interference detected!
Wikia is a free-to-use site that makes money from advertising. We have a modified experience for viewers using ad blockers

Wikia is not accessible if you've made further modifications. Remove the custom ad blocker rule(s) and the page will load as expected.