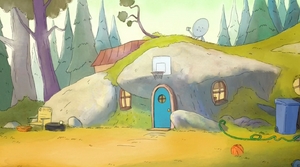 The Cave is a cave of San Francisco, California. It is the Bears's current home.
Its exterior has a door with a basketball hoop above it, several small windows, a satellite dish along and a small tree growing on the top. Next to the Cave sits a shack.
Its interior has a closet with several coats hanging, boxes inside and a vacuum. There is a desk, chair and computer, a couch, coffee table and TV with gaming system. Grizzly and Panda each have their own room while Ice Bear lives in the fridge.
Ad blocker interference detected!
Wikia is a free-to-use site that makes money from advertising. We have a modified experience for viewers using ad blockers

Wikia is not accessible if you've made further modifications. Remove the custom ad blocker rule(s) and the page will load as expected.